Reading Time:
2
minutes
Weekends start with a stack of homemade pancakes. Fluffy, tender and simply irresistible, our delicious spin on the classic Danish pancake puffs (a.k.a. Aebleskiver or "apple slices" in Danish) will blow your mind. Our secret? We replaced the traditional apple slice stuffing with a luscious berry sauce you can drizzle on top. The best part? It's infused with our White Cranberry Bark tea. Already a holiday favourite, this sweet and tangy herbal tisane makes the perfect addition to homemade cranberry sauce thanks to its creamy white chocolate stars.
Whether you serve these little Scandinavian pancakes at your next Sunday brunch or add them to your afternoon tea platter, they're guaranteed to disappear. Now whip out that frying pan and start drizzling!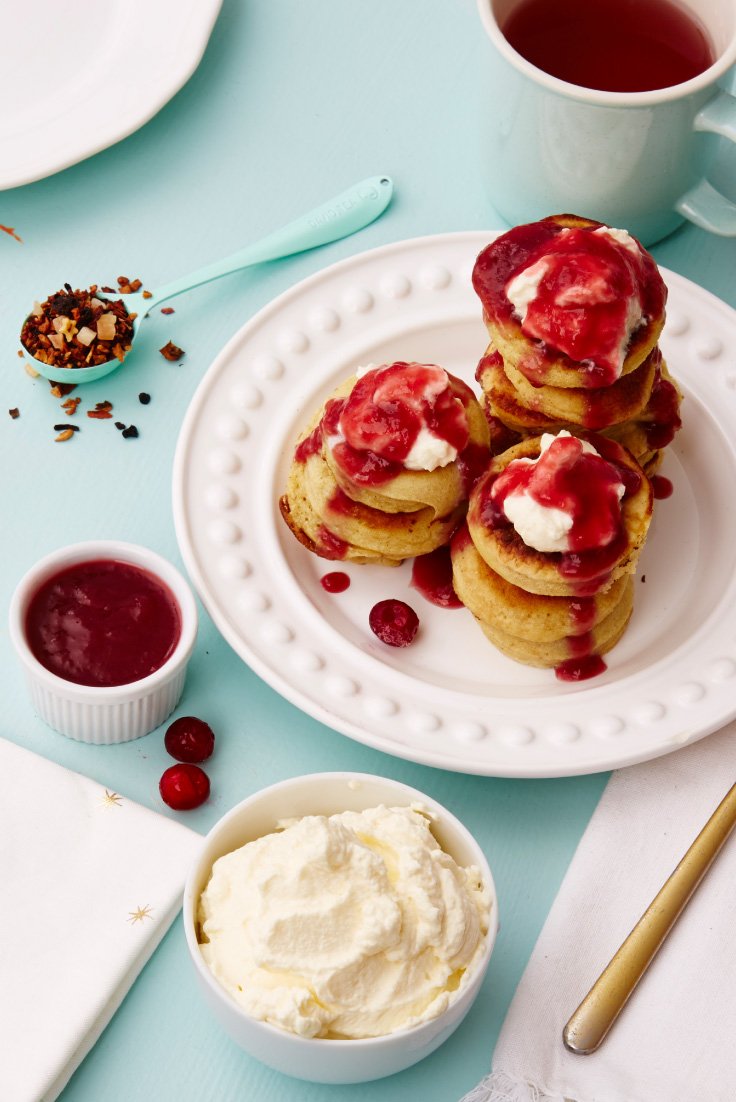 Danish Pancake Puffs with White Cranberry Bark Sauce
Print recipe
Ingredients
Pancakes:
2 eggs, separated
2 tsp sugar
1 ½ tsp baking powder
½ tsp baking soda
1 cup flour
pinch salt
1 cup milk or soy
1 tbsp melted butter + extra for greasing
Sauce:
8 Perfect Spoonfuls White Cranberry Bark tea
3 tsp of cornstarch
⅓ cup pitted cherries or cranberries (optional)
Directions
Sauce
Step 1
For the sauce, brew tea in 2 cups of hot water for 5 minutes, then strain and discard tea leaves.
Step 2
Mix cornstarch and 2 tbsp of water in a cup.
Step 3
Heat tea in a small pot over medium heat and slowly add cornstarch mixture, stirring constantly.
Step 4
Simmer for 5 minutes, then remove from heat and add cherries or cranberries.
Pancakes
Step 5
Combine all dry ingredients except for sugar.
Step 6
In a separate bowl, mix egg yolk, sugar, milk and butter.
Step 7
Roughly mix wet and dry ingredients. Careful not to overmix!
Step 8
In another bowl, beat egg whites until stiff peaks form, then fold into batter.
Step 9
Cook pancakes in a greased pan over medium heat. Use 1 tbsp of batter per pancake.
Step 10
Top with whipped cream and White Cranberry Bark Sauce.
Featured Tea
More tea-infused recipes…
Alpine Punch crepes & Cardamom French Toast bread pudding