Warm up with an uber-chocolaty pick-me-up! Combining rich cocoa and our deliciously vibrant Matcha Matsu green tea, this comforting cold-weather indulgence is your one way ticket to sweet satisfaction.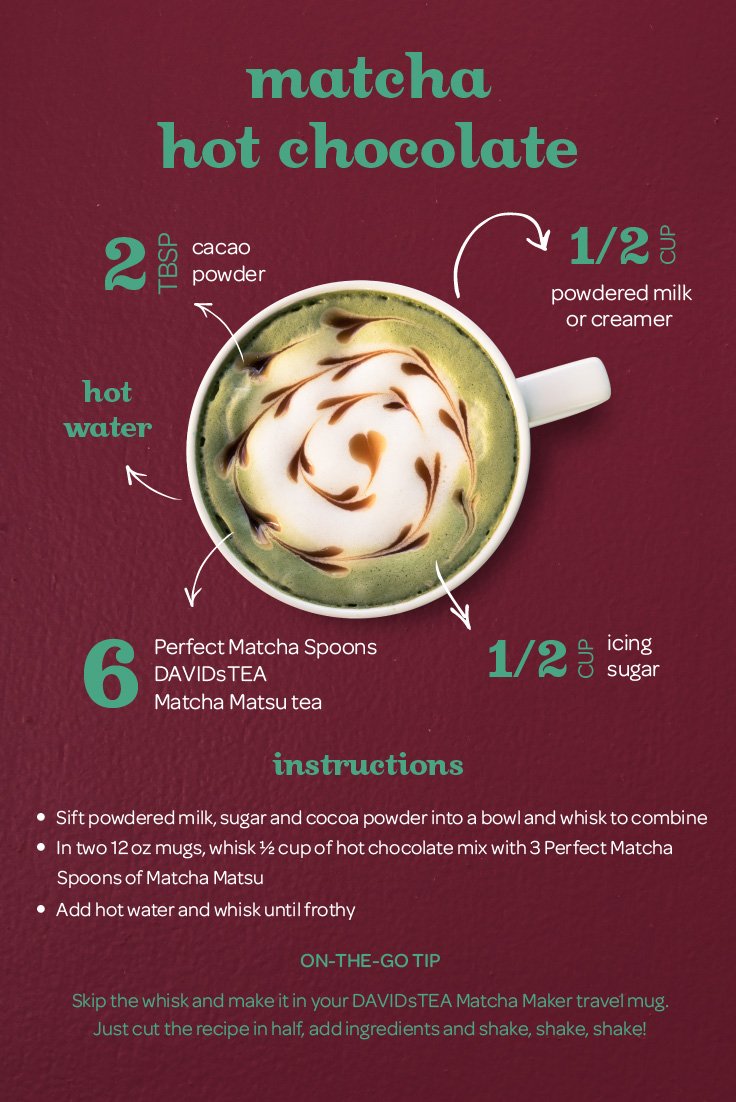 Matcha Hot Chocolate Recipe
Print recipe
Ingredients
½ cup powdered coffee creamer or milk
½ cup icing (powdered) sugar
2 tbsp cacao powder
6 Perfect Matcha Spoons of Matcha Matsu tea
Directions
Step 1
To create your hot chocolate mix, sift the first three ingredients into a bowl and whisk to combine.
Step 2
In two 12 oz mugs, add ½ cup hot chocolate powder mix and 3 Perfect Matcha Spoons of Matcha Matsu tea (or any of our other straight matchas) and stir with a whisk or fork to break up clumps.
Step 3
Add hot water and whisk until nice and frothy. Happy sipping!
Step 4
On-the-Go Tip: Skip the whisk and make it in your DAVIDsTEA Matcha Maker travel mug. Just cut the recipe in half, add the ingredients and shake, shake, shake!
Featured Tea
3664 views