Reading Time:
4
minutes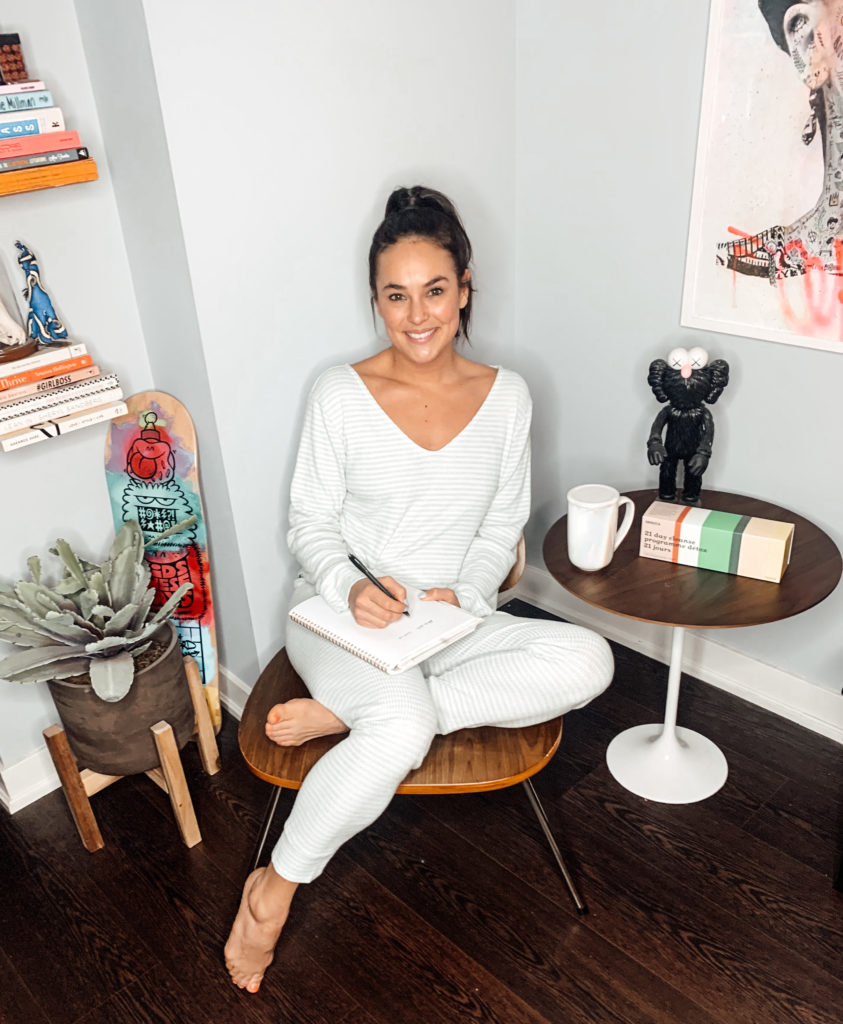 Ready for a challenge? We've partnered with Chloe Wilde, TV Personality and Founder of Healthy Is Hot, to lead us on a new path to wellness over the next three weeks.
If you haven't noticed, our approach to wellness isn't about ditching the things you love. Instead, it's about doing small things that make you feel better and that make wellness – physical, mental, social – part of your daily ritual. Surprise! That's how Chloe sees things, too.
"There is no quick fix to health, no fad diet that will give you what you desire, no single meditation class that will help you reconnect with yourself," says Chloe. "If it were that easy, the end result wouldn't have the same level of reward, pride, and accomplishment. While I'm on this journey with health, I try to remember this – that physical health, mental health and personal development are worth the work we're putting in."
Using our 21 Day Cleanse as a guide, Chloe's come up with 21 daily actions to help us reconnect with ourselves.
The Program
Three weeks, three intentions and one daily action = 21 Days of Wellness.
Week 1: Manifest Happiness
Happiness starts by taking the time to listen to yourself.
Maybe it's meditating for a few minutes, recognizing (like really recognizing) the things you're grateful for, or catching up with a friend over a walk and not a glass of wine. No matter how you manifest happiness, the teas this week will have you feeling focused and alert.
Week 1 Teas:
Refreshing, revitalizing and utterly delicious, the l-theanine in green tea (a unique amino acid in tea leaves) provides feelings of calm, focus and mindfulness. Pro tip: it's also hydrating making it the perfect workout drink.
Tart, fruity, and filled with super berries like aronia and goji, this energizing blend of green yerba mate, beetroot, guarana seeds and berries will help you stay alert. Kick-start your day and your gratitude diary with this.
Finding true happiness is also about feeling in control of your power (more on that below). This stimulating blend of yerba mate, guarana, matcha, ginger and citrus will have you buzzing in no time! With the yerba mate providing a boost of focus.
Week 2: Confidence Boost
In the words of the great RuPaul, "If you can't love yourself how in the hell you gonna love somebody else?"
Give yourself that boost you need to own your stuff. Start with a digital detox, say bye-bye to anything/one that doesn't bring you joy, try something that scares you, take yourself out on a date. Once all of these things are completed, you'll feel renewed and bursting with self-assurance. Detox and cleansing teas will help you to feel calm, clear and ready to take on the challenges.
Week 2 Teas:
Featuring sencha green tea, ginger, juniper berries and ginkgo biloba, this tea helps you get rid of the excess. Juniper is popular for its cleansing properties, ginger is said to settle the tummy and research has been done on Ginkgo biloba's effects on memory, so you won't forget how good this makes you feel.
Inspired by the ultimate cleanse, this combo is thought to increase heat and help jump start your system. It's a great way to start your day with an actual clean slate.

Week 3: Strive for Balance
"Know your non-negotiables when it comes to living your best Healthy Is Hot life," Chloe says. "Daily movement is a big one for me, and the why behind that is equal parts physical health and mental health. Whether it's a walk, a HIIT session or a hot yoga class, every day has a moment where I make the conscious choice to prioritize myself and my health."
These non-negotiables are what allows us to have balance. If we're always willing to give up/give in to outside forces we never have time/space we need for ourselves. For most of us, one non-negotiable is our daily tea moment. This week swap your fave blend for a tea that helps with digestion because nothing says balance like listening to your body.
Week 3 Teas
If traditional Chinese medicine is anything to go on, then the ginger in this spicy and sweet comforting blend of ginger, rooibos and peppercorns is sure to help settle the tummy.
In China, pu'erh, eleuthero root and ginger have been used for thousands of years to aid digestion. This tea features both oolong and pu'erh tea, two tea types popular for their metabolism boosting properties. Enjoy with a good book.

Feeling pumped? The challenge kicks off Sunday, Feb 16th. But you can start whenever you want, even right now!
So, grab your kit and follow along with us at @davidstea on Instagram to catch @thechloewilde's daily actions.
Try all of the daily actions below and share your wins (and misses) with us! #davidstea